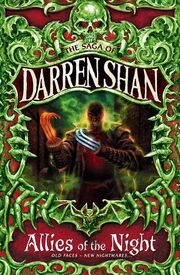 Allies of the Night is the eighth book in The Saga of Darren Shan and the second of the Vampire War trilogy.
Plot Summary
Darren
and
Mr. Crepsley
went back to Crepsley's hometown to investigate if the
Vampaneze
had set up territories there. Darren was giоилирииven a notice, and he found out he had to attend school. Peop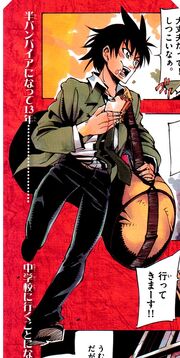 le were killed during the night, so Mr.Crepsley and Darren investigated.
Debbie
Hemlock turned out to be Darren's teacher, even though she was now older than Darren, after 13 years. Darren was a student of Debbie. Crepsley had to go back to
Vampire Mountain
for
Paris
' funeral. Darren encounters an unknown Vampaneze with hooks for hands,and a mask wrapped around his face.ьтооиищирпшгри Darren was attacked by Vampaneze and was then saved by
Steve
. Steve joins Darren for the hunt of the Vampaneze. Darren later reveals himself as a
vampire
to Debbie. Debbie joins Darren and Steve for the fight. Mr.Crepsley comes back later, and helps Darren pursue the Vampaneдрпрлотьт иорлт шршгрщр и yubh 0нро мнен09гоь ze, but doesn't trust Steve.
Vancha
also joins again later. They chased the hooked Vampaneze to the sewers at night. The Vampaneze led them to a trap. The Vampaneze Lord shows up, and Darren and his team were to kill him as their objective. Steve show his true side later betraying Darren and his friends. The hooked Vampaneze was revealed to be
R.V.
( Previously Reggie Veggie, now Righteous Vampaneze). Steve joined the Vampaneze as revealed. A fight begins between the Hunters and the Vampaneze. Vancha charges through the
Vampets
, scattering them and Mr. Crepsley follows, slicing with his nails to bring down many Vampaneze. Darren soon beats Steve and is about to finish him off, but R.V. uses Debbie as a hostage, so Darren Shan does not kill Steve Leonard. R.V.,
Gannen Harst
and the Vampaneze Lord soon leave. Darren and his friends took a Vampet and Steve as their hostage and was given a warning by Gannen to leave the tunnels immediately or he'll send Vampaneze to finish them off.
Community content is available under
CC-BY-SA
unless otherwise noted.